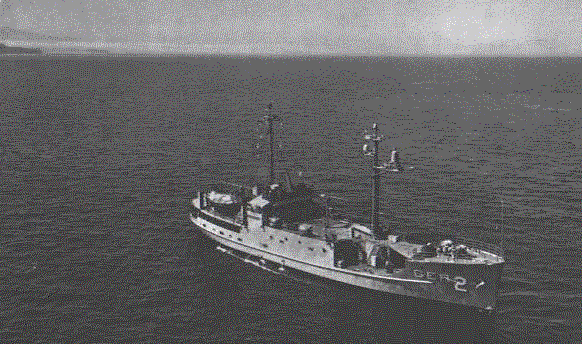 UNITED STATES SHIP PUEBLO (AKL-44) - later redesignated (AGER-2)
Formerly known as the F.S. 344, the USS PUEBLO started her career in the United States Army carrying supplies to islands in the South Pacific. PUEBLO's keel was laid in 1944 at Sturgeon Bay, Wisconsin, by the Kewaunee Shipbuilding Company. Following ten years of active service, PUEBLO was retired in December 1954 at Clatskanie, Oregon. Retirement was ended by the Navy in 1966. PUEBLO was brought to Puget Sound Naval Shipyard where conversion began on 5 July 1966. An estimated 22,547 man-days were used in making PUEBLO ready to embark on a new career.
COVER STORY
PUEBLO will conduct technical research operations in an ocean environment to support oceanographic, electromagnetic and related research projects. The most modern research equipment available is installed aboard.
The United States Navy has been a world leader for many years in the conduct of oceanographic research. Additionally, the Navy has been foremost in the field of communications research, dedicated toward the improvement of speed and reliability which today's modern Navy requires.
PUEBLO joins the fleet proudly in the knowledge that the research operations that she will conduct will be an aid to the Navy and mankind toward the complete understanding of the oceans and the improvement of the Naval Communications System.
SHIP'S STATISTICS
Length overall ------------------------------------------------------ 176 feet, 6 inches
Beam -------------------------------------------------------------------------------- 32 feet
Draft ---------------------------------------------------------------------- 9 feet, 3 inches
Speed ------------------------------------------------------------------------------ 12 knots
Propulsion ---------------- Two 500 H.P. General Motors Diesels, twin screws

The following biography of Commander Lloyd Mark "Pete" Bucher, USN (Retired) is from the commissioning pamphlet issued on 13 May 1967:
LIEUTENANT COMMANDER L. M. BUCHER, USN
Born on 1 September 1929, the son of Mr. and Mrs. William Bucher of Pocatello, Idaho, whom he survives. He was privileged to graduate from Boys Town High School, Boys Town, Nebraska. Following two years enlisted service in the U. S. Navy, where he attained the rate of Quartermaster Second Class, he attended and graduated from the University of Nebraska.
Upon commissioning in June 1953, Lieutenant Commander BUCHER attended Officers' CIC School at Glenview, Illinois. Upon graduation from CIC School he was assigned to the USS MOUNT McKINLEY (AGC-7). He attended Submarine School in 1955, thence serving in USS BESUGO (SS-321) until February 1958 in the capacities of First Lieutenant, Communication Officer, Weapons Officer, Supply and Commissary Officer and a short tour as Engineer Officer. He then served in USS CAIMAN (SS-323) as Operations Officer and Navigator.
Lieutenant Commander BUCHER was ordered to duty on the Staff of Commander Mine Force, U.S. Pacific Fleet in July of 1959, where he served as Assistant Plans Officer for Logistics until July 1961, following which he was ordered to USS RONQUIL (SS-396) serving as Operations Officer and Navigator until he was ordered to relieve as Executive Officer of RONQUIL in May of 1962. In July of 1964 he joined the Staff of Commander Submarine Flotilla SEVEN where he served as Assistant Operations Officer.
Lieutenant Commander BUCHER is married to the former Rose Dolores Rohling of Jefferson City, Missouri, and has two sons, Mark Stephen, 14, and Michael Francis, 12.